PROVISION OF SERVICES TO INDIVIDUAL CUSTOMERS is not an easy task. Our main goal is to render top level services, ensure short delivery times, high quality of the products offered, as well as a wide range of goods to cater to all customers, suit different requirements and various personal tastes.
The array of materials we offer is vast and it is not limited to roofs only but comprises also insulation systems (mineral wool, polystyrene).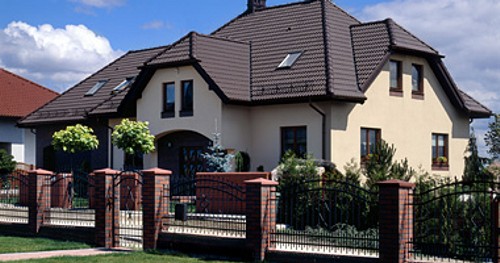 WE COOPERATE WITH CONTRACTORS which help us gain practical knowledge and are available to our clients. Transport services to the site are just one of many benefits for the customers.
Numerous reference buildings are not only a source of pride, but also a proof of trust in our company.
Feel free to see our offer. Should you have any questions, please do not hesitate to contact us.
TRAPEZOIDAL SHEETS are a universal, multi-purpose product for many applications. They are mainly intended for roofs with a low inclination angle or outbuildings and industrial buildings. Trapezoidal sheets are also cost-effective due to the possibility of full utilization of each sheet. Our offer comprises also customized sheet production to order, where the client selects the manufacturer, the colour and the expected length (even up to 12 running meters in one section).
The photos on the right show the products that became a permanent item in our offer. These are trapezoidal sheets available from stock in 2.00 – 3.10 running metre sections. Their unquestionable advantage is availability in many colours, the possibility to perform flashings adjusted to specific colours and the possibility of quick transport. Arcelor Mittal sheet warehouse on the premises of the Dachy Patryk Bianga company is a perfect solution for those requiring immediate implementation.